What was the high school fad that, looking back makes you say "really?" 
It was the late 80s… so that whole neon/Wham thing.  We can look back and laugh, now, right?  Absofuckinglutely not.  Know what that did?  Make a whole generation of kids people homophobic.  Seriously.  Were the great and cool George Michael alive today, he would agree with me.
What is a current fad that needs to go away?
I am pretty far removed from fads.  All I do it work, and I don't even have cable.  So, I have virtually no idea what is happening out there, except for politics.  In that sense, the term 'fake news' drives me crazy.  I have NO doubt there is false info going around.  Lord knows there is.  However, there is a demographic on the right who uses that for things they don't agree with.
Trump called information about his dismal inauguration turn out 'fake news'.  Said the turn out was historic.  Well, we have photographs.  We can count every single fucking head, and then compare that with empirical and historical data.  Then, we can say 'actually, the evidence and data and FACTS show that this was the worst attended in ____ years.  That isn't 'fake news'.  It's just 'news you don't care for'.
What isn't a fad but probably should be.
Your mother?  Flashing?  Not bad flashing (guy parts), but good flashing (girl parts).  Can I even say something like that in lieu of all the Weinstein news?
What's your "in-Fad-uation"
Besides spending 3 weeks listening to 'goodbye yellow brick road' over and over and over again?  Can't think of one.  I guess it appears I am going down a BNL hole, musically.  Steven Page, who I kinda expected to fall apart (you know, after getting fired from BNL, getting busted for coke, and caught cheating on his wife… all inside like a week or two.  But, dude sounds terrific.  Can not WAIT until he gets back with the band.  and he will.  100% dead on positive, he will return.  Neither are near as good without each other.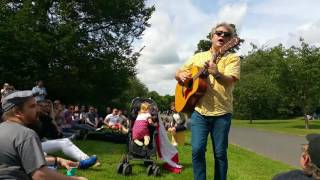 Check this amazing video out.  If you just look at the still… it looks sad.  He is an unkempt hobo playing for invisible fans.  Poor guy probably doesn't even know his name.  But the watch it.  He sounds AMAZING, and perfectly studio perfect.
*** ok > there is this > he seems to think he left Barenaked Ladies, because his songwriting suffered.  Um…. yeah… like a week after he got busted for coke, BNL loses a multi million dollar Disney deal… Steven quit?  Yeah, sure… to spend more time with his family?
What is the opposite of a once popular fad?
Sexual harassment?  Oh come on, lighten up, Francis!  In fact, lemme tell you a little something about why your sexual harassment classes don't matter.  They don't teach people WHY it is wrong… just that it is wrong.  But how can that be done?  I'll tell you – watch the famous old PBS special 'blue eye brown eye'  Watch as an amazing teacher DEMONSTRATES why racism is dumb, and wrong.  I don't think the stuff we teach today teaches respect.  It's more designed to teach you how to not get caught… or how not to get your company sued.  But why it's wrong, and stupid, and cruel to be sexist or racist… they don't seem to care.