How do you fall asleep in hot weather?
Not with AC, I can tell you that.  Have never had AC since we moved to Denver 20 years ago.  However, I tend to go to bed somewhere between late, and very late.  So, things have always cooled down by then.
How do you fall asleep in cold weather?
First… a fan to make it even colder.  Then, like 8,000 blankets
What is the weirdest weather you've ever witnessed?
Was in downtown Denver (ironically) at a Red Cross training.  I get a text we need to gather in Elbert to stand up the EOC there for flooding.  Quite odd I was pulled away from my disaster training exercises to tend to an actual disaster.  I get down to Elbert (it's our county seat, I know you have never heard of it) and we start dealing with the flooding.  Then, 2 tornadoes hit our county.  Tornadoes are, as you know, very warm weather thingies.  Well, two hours after the tornadoes hit we got a BAD snow storm.  So bad that I ended up closing down the one and only county highway (86 – Franktown to Elizabeth to Kiowa) with some flashlights.  It was blizzard conditions, and our plows were at least an hour out from being ready.  Due to the accidents and help I had to dole out and me and another gent literally closing the road off (behind us, of course.  I still had to get home) it took me 4 hours to do the drive that normally takes 25 minutes.
What would be the most inconvenient weather report to hear in the morning?
It's never snow.  Meaning… hearing it is snowing never makes me sad or mad or scared.  It thrills me, and my truck.  Having no AC, I guess the worst news would be heat.  There is a reason I fled Phoenix.  Extreme heat is stupid… and rather avoidable.
firenado.  it's a very real thing.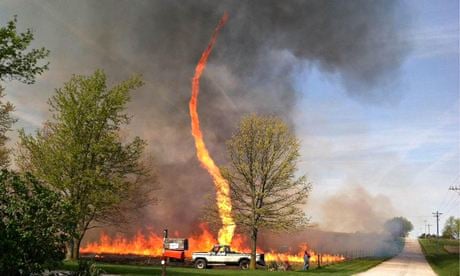 You're in charge of a "Sharknado" type film series, what animal and extreme weather condition is your choice?
Honey badger, with this magnificent fruity bastard handling all the narration