What food is delicious but a pain to eat
Drurian.  It has fouled an entire country.
What's the easiest meal you know how to cook?
Mac and cheese, or do you mean from scratch?  From scratch… the easiest… spaghetti in meat sauce (jar of marinara).  BUT… we make a seriously sick gourmet mac and cheese.   involves Gouda, and more butter than a Paula Deen fridge audit.
What is the most difficult meal you have prepared?
Done right?  Paella.  Almost impossible to execute, seriously.  That is why the wifey makes it.  It's a dish we fell in love in with Barcelona.  Like Sangria, you just don't go there and no consume TONS of both.  That is what is on the menu.  It is delicious, and cheap.  Go to Barcelona (or maybe anywhere in Spain, what the hell do I know) and eat LOTS of Paella and drink LOTS of Sangria.   Life is good.  Then, go see everything Guadi.  * that building up there.  That is a Guadi building.  it isn't photoshopped, or filtered.  There are his buildings, and they are almost 100 years old.  It is fucking phenomenal, especially if you appreciate art and drugs.  Look, here is another one.
think that is something?  Oh, just wait.  He also started building the only large scale cathedral STILL in construction a 100 years after he started it (and 80 years after he died).  They are STILL building this.   It will rock your fucking skull off if you see it in person.  And… you can.  it's open, you can go inside and take tours.  it is called the 'sagrada familia'.  if you don't believe me, google it yourself.  What you have with Antonin Gaudi is what would have happened if Salvador Dali was an architect
this is not a subtle building.  it is THEE defining thing in ALL of Barcelona.  Not to discreet.  Here is a picture of the Barcelona skyline from 50 miles away.  The church is pretty much all you can see.  See all those cranes?  They are still building it.  It's hollow inside.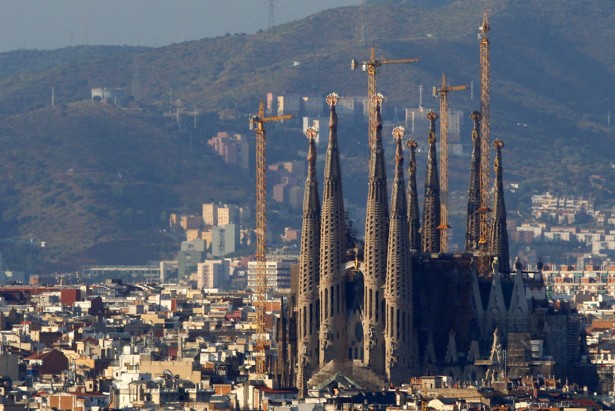 What food or drink can you almost not comprehend other people actually like?
Mountain dew, corn chips like Fritos.  GROSS.  Adam Carolla calls Mt Dew 'Nectar of the 'tards'.  I can not disagree with with policy.
What is the "white chocolate is not real chocolate" of other foods?
Well, the vanilla you are using isn't vanilla.  Vanilla only grows one place on earth, Madagascar.  What we are likely getting, even that precious bottle smuggled from Mexico, is Vanilla flavoring and a lot of alcohol.  Just like kissing your sister.