So, it took me ten twelve years to write this.  I didn't like it when I saw it the first time.  I figured with a cast like that, I should re-watch it.  I couldn't even finish it.  Here is why >
Too many good actors who are acting their dicks off because they are in a Scorsese movie.  It's like watching the second set of String Cheese Incident.  You got 6 or 7 guys playing as hard as they can, at the same time, for 90 minutes.  Remember the old jazz dictum… 'it's also about the notes you don't play'?  Apparently, acting in this movie becomes some kind of unnecessary contest to see who can chew the most scenery, and make the cut to be in the trailer.
To have that many stars, you can only assume they all worked for scale (minimum wage for movie stars) just for the chance to work with the great Scorsese (who is great.  And at the making of this movie, he had less Oscars than Eminem.  Not academy awards… but Oscars)
One can only assume their compensation, since it wasn't money, was every actor got to do an over the top soliloquy every time they were on screen – Oscar bait
I love mark Wahlberg, but his acting in this movie is SO forced, it hurts.  And here is what is silly.  The movie is about 'Southies'.  Those are the real bad asses from the poor, Irish, South end of Boston.  The guys from 'Good Will Hunting'… they were supposed to be Southies.  Mark Wahlberg really is a Southie.  He is playing himself at 20 years old, basically.  You might think he would just try some natural low key acting.  Oh no, he acts like every scene will replayed for 'Best Actor' roll in packages for years to come.  Plus, it appears he let everyone swear as much as they want.  There is no subtlety in ANY of the performances.
How is the story?  Well, spoiler alert… turns out EVERYONE is a cop.  Even Jack Nicholson's character is an informant.  This whole story line is clearly an homage to Whitey Bulger… who was still on the lam when this was filmed.  They just caught Whitey a few years ago, when he came out of hiding to kick Johnny Depp's ass for that weak-ass portrayal in the biopic.  Whitey still, quite amusingly, denies he was an informant.
Everyone dies at the end.  With all the big names, people are STILL crying for a sequel.  A sequel to what?  The story where everyone was a cop or an informant, and they all died by the end.
Marty got his 'make up' Oscar for this… if nothing else… to even the score with Eminem.
The movie had the perfect cast, perfect director, and perfect backdrop of poor working class Boston.  That is Wahlberg's real life.  And don't think he even has to act to be a 'thug'.  Remember he was once convicted for trying to beat a guy to death for being Asian.  Yeah, Southie's roll that hard.  Remember, in the movies, when they say 'working class', the subtext is 'poor white people who are violent and misogynist wife beaters… but are really golden at heart and just what a shot at that American dream'.  'Working Class' is such a violent and over-used pejorative.  It's the guy with a few prison stints, a couple ex wives, and isn't afraid to fight.  In the movies, anyway.  How about my folks?  They both worked full time and over time to give us a perfect life.  There were no factories in our story.  Mercifully, I never had to hear shit like 'we work hard, and we play harder'.
I mean… to make this movie great… you have everything, and everyone, you need.  Instead, we get a film that just feels so forced.  Can we go back and give everyone a shit ton of valium before they shoot this thing.  Even in the stills these guys are over-acting.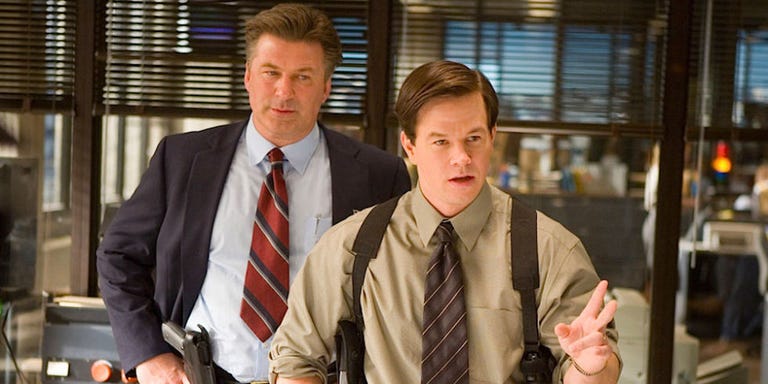 The movie I am probably more excited about than any movie I have ever been is this same group.  Marty Scorsese doing a mob movie with Deniro and Pacino and Pesci and (all too obvious choice of) Ray Romano.  This just finished filming, and comes out next year.  It's called the Irishman, and is based on a book you need to read before you finish this rant.  It's called 'I Heard You Paint Houses'.
I talk shit because I LOVE these fucking actors.  I LOVE these stories.  Look at the books I read, they are all mafia these days.  Currently, I am reading (err… listening to.  That is how I get all my books these days) is called 'Mafia Prince'. It's the story of Crazy Phil Leonetti, Little Nicky Scarfo', The Chin… et al. All the books I read are by and about the real guys.  There is NO need for fiction when it comes to the mafia, because the real shit is so goddamn crazy there is no need to embellish.
But this cast for the Departed is its own problem.  Too much talent.  Too many great minds trying to make their mark.
There is a reason they are all rich and successful.  The problem is, you can't put that much talent on screen.  In football, you have the QB.  ONE quarterback.  He gets the girls and the glory and the blame and the shoe deal.  However, it is the other 10 guys killing themselves to make him look good.  What about the offensive lineman?  Can you name one?  These guys get hit EVERY play, they NEVER get to touch the ball, and they are only noticed if they screw up.  That is how you need to build a cast and a story.  Don't know why I am instructing Marty on how to make a mafia movie, he invented it.  Plus, he invented the music documentary… the 'rockumentary'.  I expected better, mister!  Now, please don't have me wacked.