What was the best compliment you ever received?
You are an old soul
What are your five best talents?
Um, I can play guitar.  I can cook.  I clean a lot, especially for a guy.  Just not thorough at it.  I'll scrub a toilet any day, but you'll never find me on my hands and knees doing baseboards.  I can juggle.  I can speak Spanish.  I know a guy who knows the guy.  That's what he tells me, anyway.  I can make you laugh.
What do you wish most people knew about you, and why?
I'm on your side
What has been your biggest accomplishment so far, and why does it mean so much to you?
This whole adulting thing.  Having a job and a wife and a life and some dogs and horses and owning a small ranch with a pick up truck.  This is pretty much the fruition of a life long dream ever since we saw Tommy do it on 'Eight is Enough'.  Only difference… I always wanted it to be in the woods.   Still do, BUT.. with pine beatle and climate change and perpetual forest fires… wooded properties are just too much danger.
If you could achieve anything in your life, what would it be?
Have a hit book, or a hit song
BONUS – I feel like that was an anemic fives.  So, here is a bonus fives.  We just got spotify about a month ago, and it has really changed the game.  I didn't understand just how amazing it was.  I made playlists and have about a 150 songs downloaded.  Let's spin through them, and I will tell you about my relationship to the first five that come up.
Estimated Prophet – Grateful Dead (live) 3.29.90
I forgot I downloaded this set.  This is the era I began seeing the Dead live, and really getting into them.  My first show was 1989.  Between 89 and '91 the band was on FIRE.  I happened to luck out, and come in during one of the greatest eras ever.  Perhaps I am being nostalgic, and everyone thinks that about that era.  We have releases to back me up.  Only 2 eras have been extensively released – 1977, and 1990.  I am also lucky that my first Dead show ever was released on DVD.  Truckin up to Buffalo.
Ok… the song.  Estimated is a great track off Terrapin Station, and a fun one for the crowds.  Bobby went nuts at the end of every song, with some kind of falsetto tourettes that we came to adore… and mercilessly mock.  Bobby Cheese, we called him.  Great song!  Terrapin Station is one of the few Dead studio albums I really like.  My favorite all time Dead song is Terrapin, live and studio.
River Otis – Dead Hot Workshop
this is from the terrific and nearly famous Phoenix band Dead Hot Workshop.  They are terrific, and it kills me they never made it big.  Their heyday was in the 90s, along side good friends 'Gin Blossoms', who are also a Phoenix band.  Used to see Dead Hot play the bars in Phx and Tempe and Flagstaff during the college years, it was the best!  Have seen Robin and most of the other Gin Blossom's guy show up and play with Dead Hot as well.  This album, interestingly, is about the Gin Blossoms.  It's quite a story.  There was a guy in the Gin Blossoms who wrote ALL their hits, Doug Hopkins.  He wrote 'Hey Jealousy', and a ton of others.  He was a genius, and had mental and drug and booze issues.  Gin Blossoms had to fire him.  No one faults them for that.  Shortly after, though, Doug killed himself.  This shook up the whole Phx band community pretty hard.  The cover of this Dead Hot Workshop album below is a picture of Doug in Sedona.
I dare say the reason the Gin Blossoms fell off the national radar is because they didn't have Doug's songs behind them.  I am happy to report that I believe both bands are still mostly in tact and playing.  Odds are, for the Dead Hot guys, they probably have day jobs.
I still remember the moment I met this amazing and perfect album, Love.  We were camping with the fam in Northern Arizona, and the wifey's sister was playing this on her camper speakers.  It rocked my world.  This is a CD of Beatles hits remixed by the late great George Martin for the Cirque de Solei play that ran in Vegas.  It is full of masterful mashups and just too much goodness to even describe.  Find this album and get it immediately.  It also functions, loosely, as a Beatle's greatest hits.  There is not a single song on there that you don't know all the words too.
Sex with Strangers – Dead Hot Workshop
Interesting, full random gets me two Dead Hot songs.  I'll take it.  Mark this band down with Big Jim Slade as much I still love and listen to and miss.  Slaus, where are you?  Dead Hot was a ball out rock and roll bar band.  BUT… had great hooks and thoughtful lyrics, all delivered with a punch you in the mouth bravado a bar band needs to survive.  When I had my own little bar band, I would think 'what would Brent do?'.  Then, banish the thought because Brent was so cool, he was just being Brent.
  This is their logo for shirts, and it was also the cover of their demo cassette I bought off them in the alley after the show from their van.  That van, incidentally, was rock royalty.  They bought it off the Gin Blossoms when the Gin Blossoms broke big and got tour buses.  This van in question is on the cover of New Miserable Experience.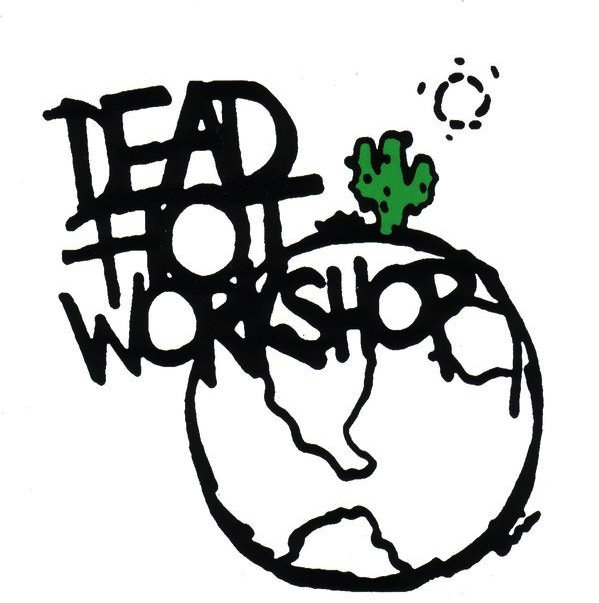 ALL of rock and roll for the last 40 years has been powered by the Ford Econoline van.  Wait, didn't Neil Young sing about that in 'Tonight's the Night'?   It is the only car big enough to hold 5 or 6 grown ass filthy nasty men.  Generally, behind it they tow a little utility trailer with their gear.